Missing cars&vehicles/car configurations
Comments

31
39pages on
this wiki
Mafia 2 was said to contain 70 different cars.
You can find all the promised vehicles hereor most of them can be seen here where the developer mentioned all the other types of transport, namely buses, elevated trains&trains, subway and planes./in czech language/
There was a possibility to fill the trunk of the car with a body,weapons(as developers promised)or perhaps with some stuff that Vito was able to buy in the city(like electric appliance)

If anyone has seen an ambulance in the vanilla game I will edit this.
00_70_00_0514:Ambulance Driver..


Text files show missing vehicles.
00_60_00_0002:Mannschaftstransportwagen
00_60_00_0003:Wespe
00_60_00_0004:Sherman M4A1
00_60_00_0005:Sicilian Cart
00_60_00_0059:Forklift

Remains of the car trunk option can be seen in:
carTrunkEmpty.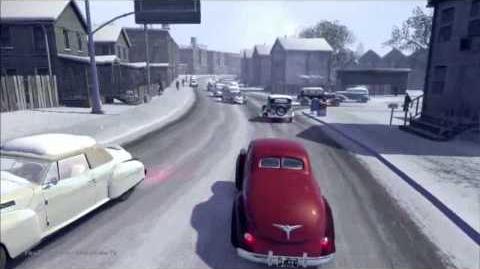 Question: Can we store bodies in the trunk of a car?
2k answer: You will be able to drag bodies around. You will not be able to hide bodies within things.

Source: 2k forum