Here´s a video that show many other combos and melee weapons. Dan Vavra even mentioned that Vito will be able to grab a chair and fight with it in pubs.
As you can see there were many melee weapons and Vito was even able to pick up most of the stuff on the ground or a chair to throw(Daniel Vavra mentions this in one developer diary).
Remains of this can be found in the game code:
00_50_00_0227: Lift chair
00_50_00_0228: Pick an object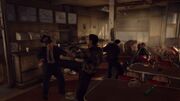 Ad blocker interference detected!
Wikia is a free-to-use site that makes money from advertising. We have a modified experience for viewers using ad blockers

Wikia is not accessible if you've made further modifications. Remove the custom ad blocker rule(s) and the page will load as expected.