One of the texts hidden in the code:
00_59_18_0001:Quick race

06_58_00_0004:Select your racer

or selection of the race suit from Vito´s wardrobe: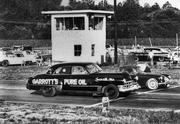 00_64_04_0046: Race suit

There is a speculation that it could be an option in the multiplayer as Mafia 1 had originally a race multiplayer. Also it could be an option to
put stakes on horses or dogs as mentioned here.
Question: Will there be racing inside or outside of missions?
2k answer: We have car chases within the story, but Vito won't be drag racing – he has work to do!
Source: 2k forum